Todd Lawrence Larkin is an American artist and art historian, the recipient of the French Embassy's Bourse Châteaubriand, the United States Capitol Historical Society's Research Fellowship, the National Endowment for the Humanities' Research Stipend, the Terra Foundation for American Art's Academic Program Grant, the Henry Luce Foundation's Program Grant, and the Samuel H. Kress Foundation's Program Grant.
Family Origins in America, 1840s–1982
Todd Larkin was born in Mountain View (Santa Clara County), California, on 24 February 1968, the second of four children of Lawrence Larkin and Constance Kremer.
The Larkin family has deep roots in the Monterey-San Francisco Bay area. In the 1840s Francis Larkin of Shankill (Monaghan County), Ireland, traversed the Western territories and became a successful gold prospector in the Sacramento area; in 1858-59 he purchased the two-hundred-acre Rancho San Andreas, the southernmost portion of the Castro family's tripartite Mexican land grant (Santa Cruz County); by the early 1880s he had retired to San Francisco with his wife Catherine Sweeney, bought a home on Mission Street, and, possibly because there were no children, arranged for the progeny of his younger brother, Patrick, to immigrate from Ireland. Of the ten who chose to undertake the journey, James was probably the earliest to arrive in 1875, Michael the last in 1892; "Uncle Frank" put his nephews to work on various farming and ranching concerns in "Larkin Valley," a prime stretch of land between Watsonville and Aptos. In 1903, Michael Larkin married Elizabeth Fegan in San Francisco; they purchased their own property in Pajaro Dunes, cultivated land and livestock, and raised ten children. The second of these, Simon, turned his hand to mineral prospecting and meat purveyance before marrying Margaret Conway, daughter of a navy dentist and mining speculator, in Watsonville in 1930. Together they entered the grocery business, successively operating meat, cold storage, liquor and food services in Santa Cruz, Morgan Hill, Sunnyvale, Menlo Park, and Los Altos, and raising three sons who were largely absorbed into these concerns. Their third offspring, Lawrence, married Constance Kremer, daughter of the co-owner of a Mountain View insurance firm and a court reporter, in 1966; he abandoned grocery for real estate sales and investment in 1976 and she opened her own court reporting business in 1986.
While Todd Larkin was in infancy, his parents resisted family pressures to remain in the gentrified Los-Altos-Menlo Park district and purchased a home in the small, redwood-edged community of Scotts Valley, seven miles from Santa Cruz. Larkin recalls, "I can still see the little town that was nothing more than a post office, a market, and a hardware store on either side of a dirt road, which were wafted with dust when the tiny Fourth of July parade passed through." Although they moved a few times, the family resided within town limits for nearly thirty years and witnessed its development into a polished suburb.
Early Education and Work as an Artist, 1982–1992
Todd Larkin attended Marello Preparatory High School in Santa Cruz, where he excelled at art, English, stage set design, and drama. He won the Congressional Arts Award for a large-scale drawing representing Louis XVI and Marie-Antoinette of France, which represented Leon Panetta's 17th Congressional District in the States Representatives' Office Building in Washington, D.C., in 1985; he also won a silver medal for essay writing, a bronze medal for contributions to the history quiz, at the Academic Decathelon for Santa Cruz County the same year; he graduated second in his class with the rank of Salutatorian a year later. "It was a confusing time for me," he remembers, "because my parents were drifting towards divorce and my elder brother was rocking with his band, so I holed up in the bookstores on Pacific Avenue. I must have looked to those books, prints, and postcards as if they were signposts for my subsequent career choices."
He enrolled at California State University, San José, where he earned a B.A. in Art History and a minor in Humanities. He received consecutive Art History Scholarship and Achievement Awards, completed a final project on French sculptor Félix Lecomte's marble bust portrait of Marie-Antoinette (1783, bronze copy, Leland Stanford Jr. Museum of Art), and graduated Magna cum Laude in 1990. Shortly thereafter, one of the university faculty offered an opportunity to undertake a "Grand Tour" of Paris and the Loire Valley, a trip that began a life-long appreciation of French art and architecture. He also worked as a freelance watercolorist for an interior decorator and drew portraits and genre scenes for various high-end shops in Menlo Park (a drawing of Diana, Princess of Wales, was reproduced as a duotone print and received an accolade from the princess). But the work was erratic and uncertain, as he explains, "Drawing state portraits and period pieces had been a great outlet for my intricate talent and rarified imagination, but I quickly came to believe that representational art was not going to shake the art world or provide a living."
Graduate Education in Art History, 1992–2000
Todd Larkin attended the University of California, Santa Barbara, and earned an M.A. and Ph.D. in Art History. His Master's Thesis, a comparative analysis of Edmund Burke's essay on the sublime and Joshua Reynolds' dramatic portrait of Sarah Siddons as the Tragic Muse (1784, Henry E. Huntington Museum), was completed under E. Bruce Robertson in 1994. His Dissertation project, an original inquiry into the portraits of Marie-Antoinette and their public reception, was also completed under Robertson. A major turning point came in the spring of 1995 when he visited Oxford University, where he met Francis Haskell, an exacting scholar of seventeenth- and eighteenth-century art patronage; Haskell encouraged a serious reappraisal of Marie-Antoinette's patronage and helped lay the groundwork for Larkin's successful application to the French Embassy for the Bourse Châteaubriand, a graduate research fellowship for dissertation research in France. Of his time spent in Paris in 1997-98 and 1999, he remembers, "It was an invaluable opportunity to explore the inner corridors of Versailles, to pore over rare tomes at the Bibliothèque Nationale or hand-written documents at the Archives Nationales." His findings were partly aired in a paper on Elisabeth Vigée Le Brun's portrait of Marie-Antoinette in a muslin dress (1783, Schloß Fasanerie, Eichenzell) at the Women Art Patrons Conference at the New York Public Library in 1999. A U.S. Capitol Historical Society Fellowship made possible a related study of documents pertaining to Congress' state portraits of Louis XVI and Marie-Antoinette in Washington, D.C., Philadelphia, and New York before graduating in the summer of 2000.
Professional Work as an Art Historian, 2000-present
Todd Larkin accepted a position as Assistant Professor of Seventeenth- to Nineteenth-Century Art in the School of Art at Montana State University, Bozeman, in the fall of 2000 and was tenured and raised to the rank of Associate Professor in the spring of 2007. Institutional pressures to maintain high enrollments and evaluation scores and to ensure a thriving studio culture resulted in a large amount of time being allocated to teaching and service responsibilities. Notable successes included augmenting the 350+ student Survey of Prehistoric to Contemporary Art with thematic discussion sections; designing new undergraduate offerings in Italian Baroque, Dutch Baroque, Eighteenth-Century French and British Art, Nineteenth-Century French Painting, Decorative Arts, Printmaking, American Art, and Asian Art; founding and editing a new online journal called BOZetto: The Undergraduate Journal of Art History; proposing, developing, and administering a new M.A. program in Art History and writing required seminars in Methods and Theory and Pedagogy and Professionalism; representing the Art History unit in accreditation evaluations.  Nominated for various teaching awards, Larkin is among the most compelling, exacting, and rigorous instructors in the Department of Art History, motivated by the potential to inspire and empower students for future success: "The most exciting thing about our students," he observes, "is their incredible thirst for knowledge and their determination to apply themselves to their studies. Since I also attended a state university, I know what it feels like to want something better than you have."
He has received research grants from the President, Provost, Vice Provost, and Dean of his university for travel to French museums, libraries, and archives and he has contributed sessions and papers to national conferences, interviews to newspapers, and reviews and articles to journals.  His research to date has charted two directions:  Queen Marie-Antoinette's art patronage as a sign of political identity and trans-Atlantic cultural exchange during the Revolutionary era.
For the first topic, he has written articles on portraits of Marie-Antoinette she commissioned, displayed, and gifted during the last quarter of the eighteenth century (e.g. Elisabeth Vigée Le Brun's Marie-Antoinette in a Muslin Dress, 1783; Marie-Antoinette and Her Children, 1787; Self-Portrait Painting a Portrait Marie-Antoinette, 1791), part of a long-range strategy to publish a comprehensive study with the University of Delaware Press.  He has just completed a book manuscript on the representation of "Marie-Antoinette" in nineteenth- to twentieth-century biography and film, Stefan Zweig / Irving Thalberg / Norma Shearer: The Role of "Historical Authenticity" in the Representation of "Marie-Antoinette" during the 1930s for submission to the British Film Institute.
For the second topic, he has authored essays on state portraits of Louis XVI and Marie-Antoinette gifted to the United States Congress during the War of Independence in 1779 (Winterthur Portfolio, 2010) and destroyed during the War of 1812 (under review by American Philosophical Society). He explains his motivation behind the project: "By definitively identifying and contextualizing these lost portraits, I wanted to give back something to my country, to its universities, museums, and archives, which fostered a career in art history."  Two years ago, he conceived, organized, and funded the international scholarly conference Political Portraiture in the United States and France during the Revolutionary and Federal Eras ca. 1776-1814 at the National Portrait Gallery, Washington D.C., with the support of the Terra Foundation for American Art, the Henry Luce Foundation, and the Samuel Kress Foundation and is editing an anthology of polished essays for the Smithsonian Institution Scholarly Press.
In spring of 2014 he was successful in obtaining art–a series of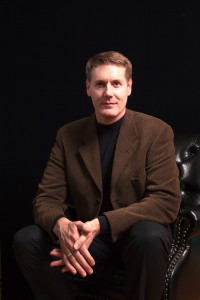 nineteenth-century Ukiyo-e prints–for the School of Computer Science's Japanese-themed Student Success Center and in May 2015 he curated the show Utagawa Kunisada's 69 Stations of the Kisokaido (1852-53) for the College of Arts and Architecture's Dean's Gallery.  In September 2016 he became official liaison to the Paulson Collection of Asian Art with the objective of facilitating the transfer of a local horde of mostly Chinese Buddhist altars and sculptures, scholar implements, and household furnishings dating from the Tang Period through the end of the Qing Dynasty to the Department of Art History with the charge of establishing a Center for Asian Art and Culture.  He is currently planning a collaborative, multi-venue exhibition to showcase treasures from the collection.